Some thoughts on this beautiful wedding…
This was a fabulous wedding and so much fun to work with Jennifer and Eric. Their wedding was held at Belle Isle Conservatory in Detroit. The reception was held at One Under Banquet Hall in Livonia MI. I remember when Jennifer called and told me about her wedding plans, I grew more and more excited as we talked. She was a one of a kind bride and I just loved working with her. Her plans were to meet in downtown Detroit before the wedding service at the Belle Isle Conservatory. She wanted to do her first look (aka: first reveal) at a fire station near a pub she and Eric loved to spend time at.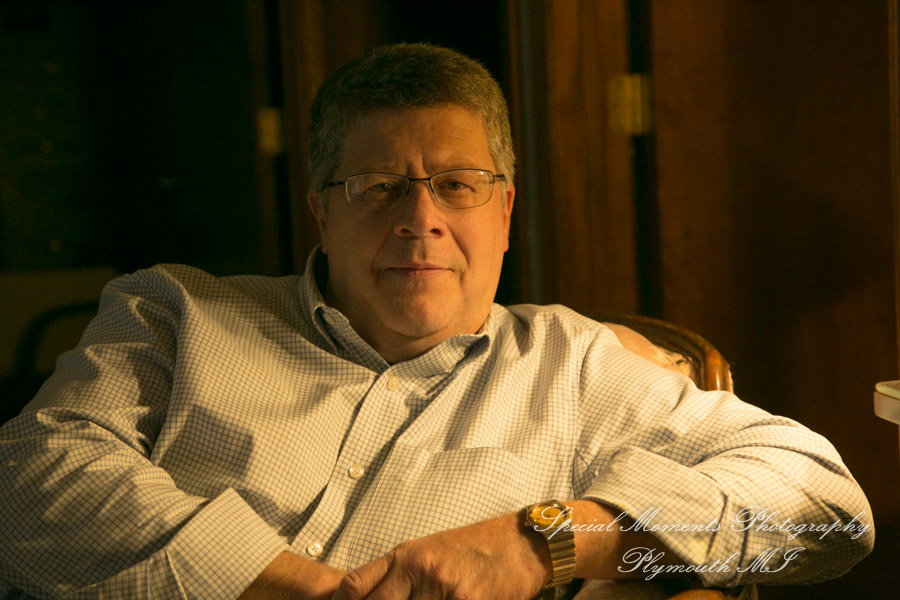 The first look at a Detroit fire station…
The crew at the fire station were awesome with us. Jennifer had contacted them before and asked if they would allow us to take some photos around the station and they were very amenable to the idea. They're only stipulation was that if the horn blew and they had to respond to a fire we would clear out immediately. Everyone agreed and understood the rationale behind that request and had absolutely no problem with it. What a great crew and a fun starting off point for this wedding.
After about 20 minutes at the fire station we moved on to Belle Isle and made a quick stop off at the fountain. We also made our way over to Belle Isle Casino for a few pictures. We spent a little time around there taking some beautiful shots. I love some of the pictures where Jennifer's dress and hair are gently blowing in the breeze. It's just a gorgeous place and a light breeze can really add a nice touch as it moves sheer fabric in such a gentle way. Her dress was so beautiful as it was subtly moved by the wisps of air. It's sometimes those little things like this that can make all the difference in a fabulous picture.
The service at the Belle Isle Conservatory…
The service was held inside the Belle Isle Conservatory. They have a beautiful grotto covered in vines that makes for a spectacular backdrop for a wedding. The gentle light that comes through the glass is so soft and pure. They exchanged vows with their children looking on. A second wedding can be so meaningful if it's done this well. The couple was in love and the family was included in such a beautiful way. After the service we spent a little time inside the Conservatory taking some pictures before heading outside and leaving for the reception.
Wedding reception held at One Under Banquet Hall Livonia…
The reception was held at One Under Banquet Hall in Livonia. It is a beautiful golf course and one that I've played a fair amount at with friends. Having the privilege of shooting a wedding here was extra special!  I love this place and the staff is always pleasant with the guests. As I was moving around getting a few detail shots before the couple arrived, one of my dear friends stepped out of the crowd and greeted me. Teresa owned a bridal shop down in Wyandotte for many years and has since retired. I had no idea she was going to be a guest at this wedding and it put the biggest smile on my face when she greeted me. She has a lovely family and had a beautiful business in Wyandotte for many years. She was amazing with her customers!
Introduction into the banquet room…
The bride and groom arrived and Eric carried her into the room. The lighting on the shots are absolutely gorgeous! It's so fun to see the quality of light coming through the fog machine. The best man made his toast and they cut their cake. After dinner the couple took to the dance floor.
One Under Banquet Hall is such a beautiful little room. It is intimate and not overstated. It is a very special little place. I say little because you don't feel like you need to find ways to fill up a big room for a smaller wedding. It can be just the right size for the micro weddings we are seeing a lot of recently. Smaller weddings like this with maybe 75 guests like Jennifer and Eric's fit so well with plenty of room to move around, but you don't feel overwhelmed like you do in some of the bigger rooms around the city. With Covid-19 having changed the wedding industry quite a bit, we are seeing smaller weddings more often than before. I can see this room being utilized by couples more and more because of its perfect size.
Sunset shots on the golf course…
The sun was going down and I asked the couple to come outside for a few shots at sunset. They turned out to be absolutely gorgeous! I think the couple liked them too, given the feedback we heard. We wish them the very best life has to offer and are so excited to see these two families joined. I'm sure those children will be deeply loved and cared for by this caring and lovely couple.
We can't wait for our next One Under Banquet Hall wedding!
Check out another fun wedding in downtown Detroit for Jessica and Christopher.
---
A note about our logo on these photos…
The logo you see on these BLOG post images are for our web presence.  This helps us should someone stumble on one of our image. It can lead them back to our site and we just might get a new booking from it.  Your final images will be free of watermarks and ready for you to print or post.
---
---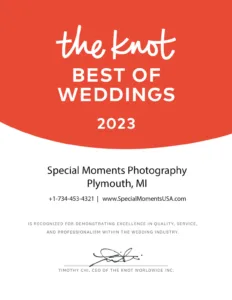 ---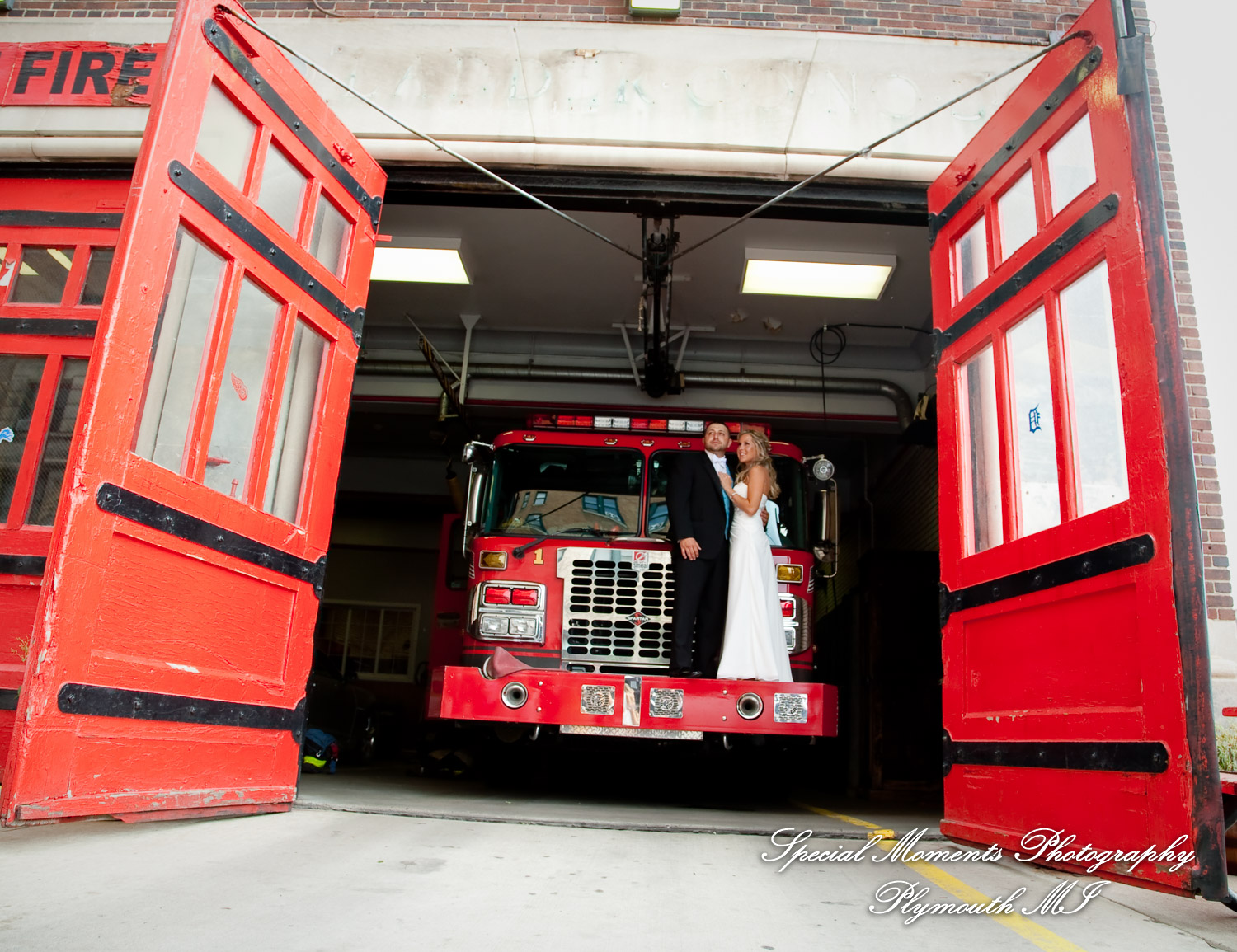 ---
---