THIS IS WHERE YOU FIND OUR WEDDING PHOTOGRAPHY PRICING.
We offer a wide range of packages to cover from the smallest & most intimate weddings to the largest & most extravagant events. Our most popular packages are in the 6 to 8 hour range & costing in the 2-3 thousand dollar range (we have smaller & larger packages).   Most often we are asked to cover the wedding day from getting ready on into your party with cocktails & dancing.
Wedding packages include:
Packages from 2 to 14 hours coverage (we have seen wedding from 4 – 1100 guests)
Hindu / Sikh wedding options for muti-day coverage
Choice of wedding photographer
High resolution digital files of all images including personal copyrights
Guaranteed 30 day turnaround
Unlimited locations during the day
Unlimited images of your event
All images edited for exposure & color balance
Web upload of all images for review & sharing with family
Back-up photographer in case of emergency
Additional hours may be added
Our personal touch on every wedding we photograph
We offer packages to satisfy all your needs.

---

(These include your photo albums, photography time, your high resolution files with rights, extra prints, etc.)
This is a very comprehensive approach to your wedding photography needs. When your wedding is over and you have settled into your new life together, you can pull out your wedding album and remember all the joy and excitement of your wedding day. The packages listed below are what we have created for you to preserve your everlasting memories. These are the complete packages, they come with a customized album. Each package just varies in size and the quantity of items included. There are other à la carte options for the inclusive packages, at the bottom, to add to your  package selection. Prices are for 2019-20 events, check with studio for prices for 2021 events & beyond.

Remember, we can customize these as you like!
---
---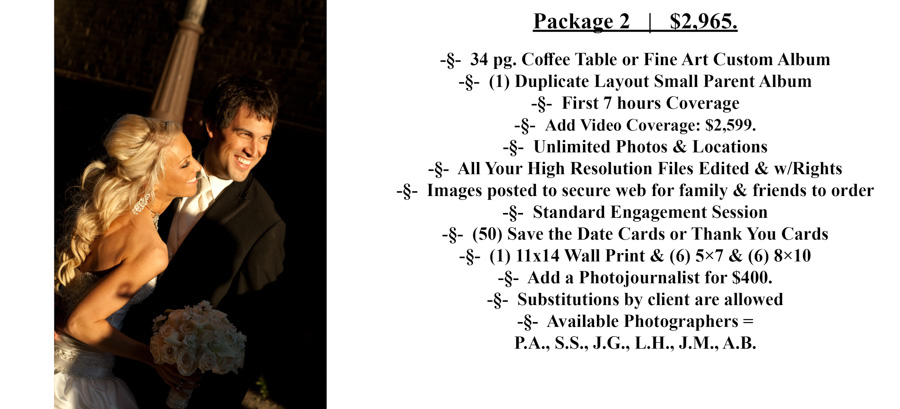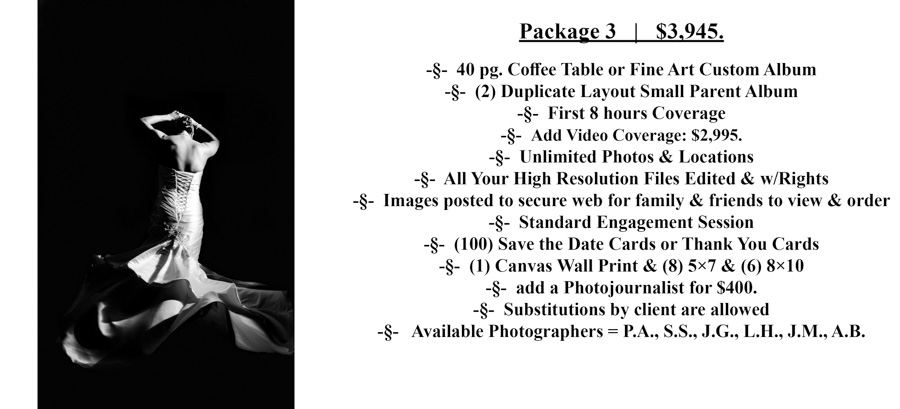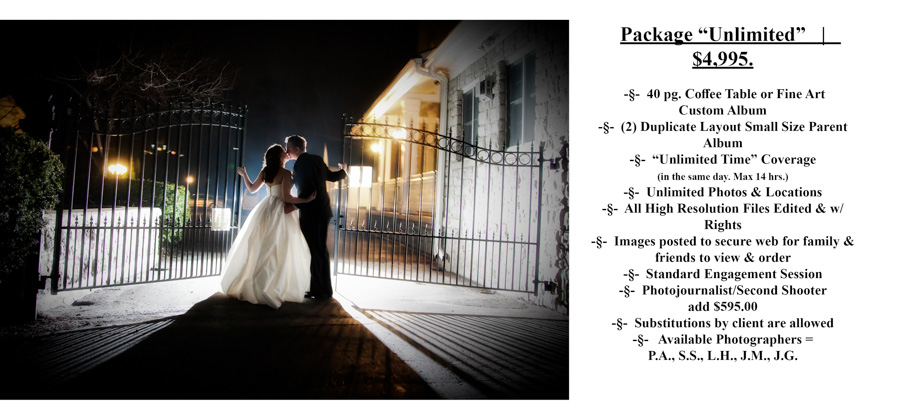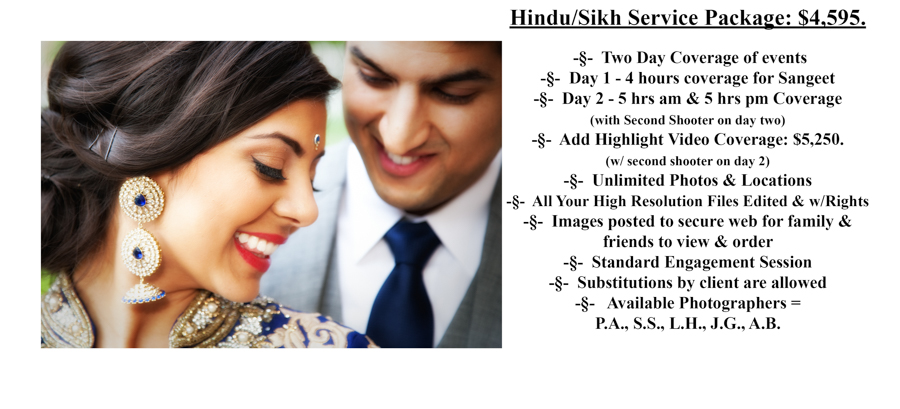 – Some à la carte Options To Add To Your All Inclusive Package –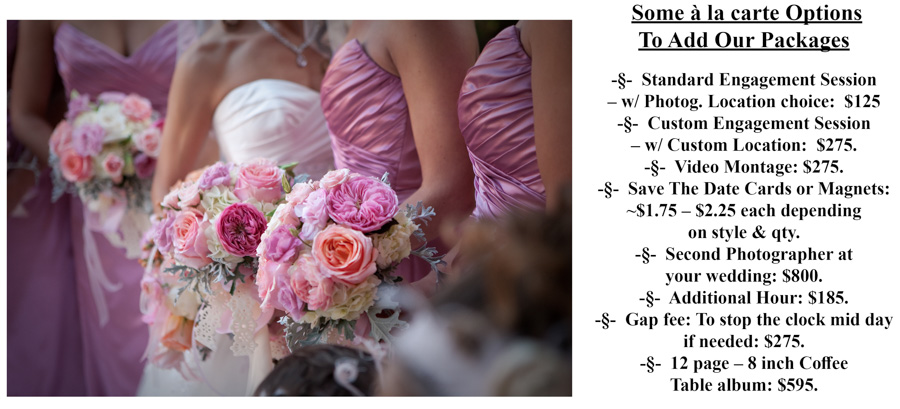 (These include photography time & all your high resolution files with rights but without the photo albums.)

The following packages let us professionally capture your event then expertly edit your wedding images. We then post your images to a secure website for you and your guests to view and order. We provide you with all your edited high resolution images, with rights. Simply pick the amount of time you would like us to shoot at your wedding, we will edit the images, and provide them to you ready to print and play!
Remember, we can customize these as you like!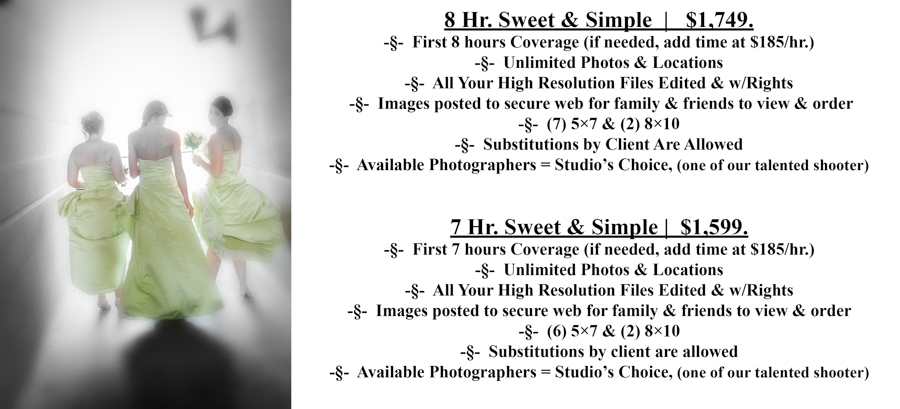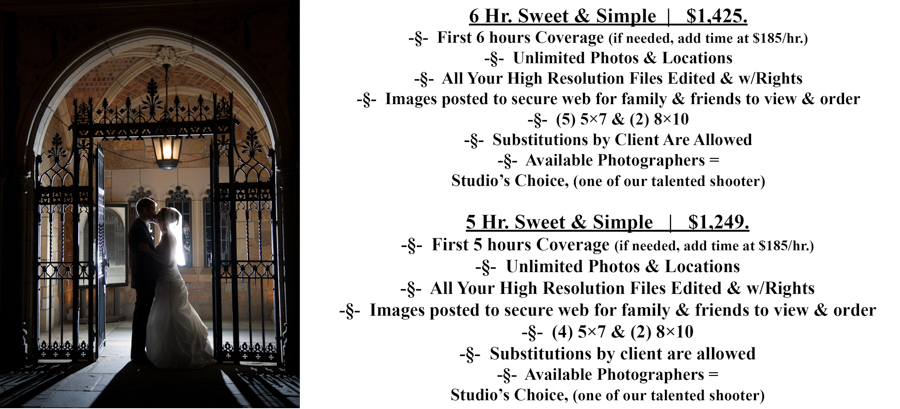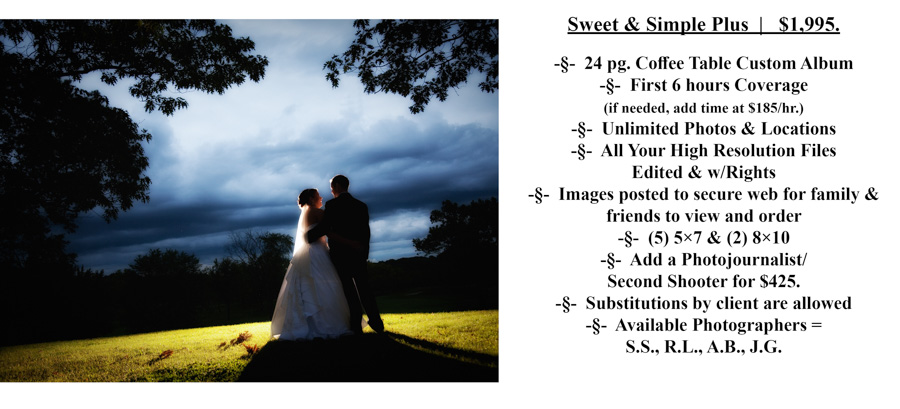 – Some à la carte Options To Add To Your Sweet & Simple Package –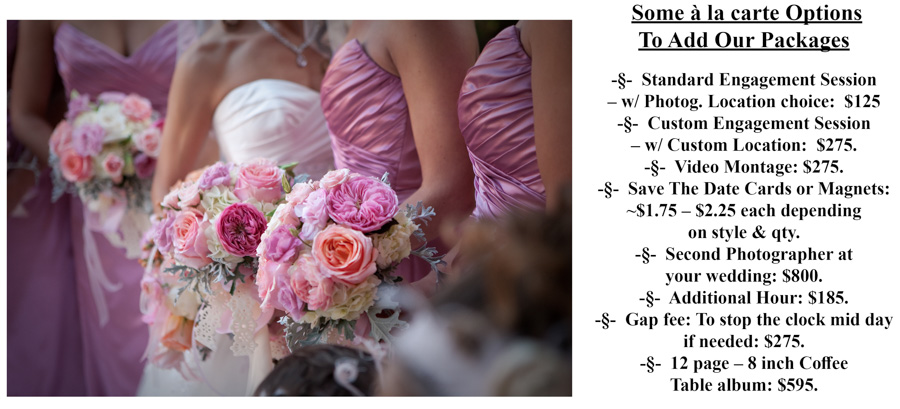 (Same as above but with Limited Availability)
These packages might have limited availability on Saturdays during our prime shooting months of May through October. They are very similar to the packages above but with smaller time coverage. These work great for smaller weddings or other special events.
Remember, WE CAN CUSTOMIZE THESE AS YOU LIKE!